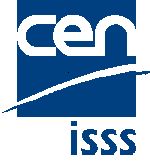 CEN/ISSS was created in mid-1997 by CEN (European Committee for Standardization) as the focus for its ICT (Information and Communications Technologies) activities. CEN recognized that the market needs of the Information Society could not be met through traditional standardization methods alone, and that a new solution was required.

ISSS (Information Society Standardization System) aims to provide market players with a comprehensive and integrated range of standardization-oriented services and products, in order to contribute to the success of the Information Society in Europe. The CEN/ISSS Workshop concept provides a unique opportunity for any party faced with a challenge to find others in a similar situation, and to develop a result by consensus, validated in an open arena.

The procedures for setting up and operating Workshops are deliberately kept to a minimum and all the decision-making powers rest with the interested parties themselves -- the members of the Workshop. These include all market players (industry, service providers, administrations, users and consumers) and can come from any part of the globe. They are responsible for the funding and direction of the Workshop and for the approval of the deliverables.

As a public service, CEN/ISSS also researches and publishes a regular survey of over 350 ICT industry consortia operating as informal "standards bodies". It has already been mentioned in the US Congress as a world reference on the subject. The 7th and latest edition of the CEN/ISSS ICT Consortia Survey was published in October 2002.